Review Monte Mayor golf, Costa del Sol
This course closed in late 2011. I hear some talk that it sometimes reopens partially or fully. But until it properly reopens, I will not play it to review it for this site. It is included in this site now because it is a full-size and decent course, just simply not viable as an ongoing business proposition at the moment in the eyes of the owners. Probably another casualty of the Spanish property boom/bust, currently in limbo while people try to figure out it's future.
Review last updated: December 2013. Last played: Never.
Find Monte Mayor golf ? Web site: NONE | GPS: 36.495776,-5.07108 in new window on Google Maps or Bing Maps
---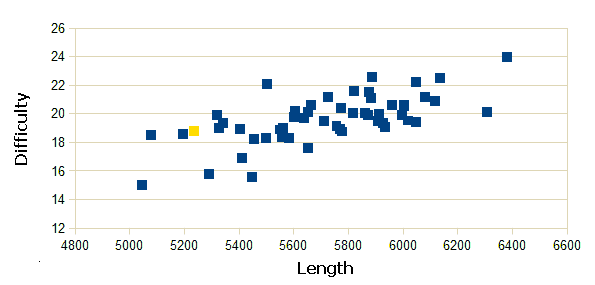 Each dot represents a golf course on the Costa del Sol - when played off the Mens Yellow tees. Every course has two measures - length in meters (the X-axis) and difficulty (the Y-axis).
Monte Mayor is represented by the yellow dot. This shows it is one of the shorter courses on the Costa del Sol, and slighty less than average difficulty. An 18-handicap player can expect to go around this course in 19 over par.
The graph shows you 'at-a-glance' the approximate length and difficulty of each course relative to other courses on the Costa del Sol. The graphs are explained in more detail here.
---



This entire CostaDelSolGolf site © 2013-2020. See our terms and privacy/cookies policy.