Review Valderrama golf, Costa del Sol ($$$$)
To be clear, I have not yet played Valderrama but hope to do so one day. Obviously this is a super-premium course with a price tag to match. Almost every golfer knows the history of this course and the association with Severiano Ballesteros in bringing the 1997 Ryder Cup to Valderrama and the subsequent rise of European golf. Valderrama describes itself with some justification as the best golf course in Spain and arguably in Europe. It belongs to a group of 10-20 golf courses that are genuinely world famous - St. Andrews, Augusta, Pebble Beach etc.
Some golfers (generally good players with ample money) 'collect' trophy golf courses like Valderrama. I am simply not that type of player. Your opinion may be different. Certainly a course like Valderrama should be in absolutely outstanding condition at any time of year. Whatever I might say about this course is unlikely to help you decide if you want to play it or not. You probably already know how you feel about it.
Review last updated: December 2013. Last played: Never.
Find Valderrama golf ? Web site: valderrama.com | GPS: 36.281983,-5.327323 in new window on Google Maps or Bing Maps
---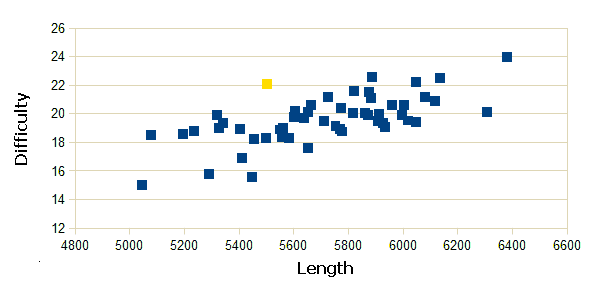 Each dot represents a golf course on the Costa del Sol - when played off the Mens Yellow tees. Every course has two measures - length in meters (the X-axis) and difficulty (the Y-axis).
Valderrama is the yellow dot. It is actually about 200 meters shorter than the average golf course on the Costa, but is notably more difficult than the average course (actually in 'top 5' of all courses). An 18-handicap player going around Valderrama off the Yellow tees can expect to shoot about 22 over par. Obviously premier courses like Valderrama host top-tier events for professionals and other very good golfers, so their longer tees (Competition or Mens White...) will be significantly further back than the Mens Yellow tees.
The graph shows you 'at-a-glance' the approximate length and difficulty of each course relative to other courses on the Costa del Sol. The graphs are explained in more detail here.
---



This entire CostaDelSolGolf site © 2013-2020. See our terms and privacy/cookies policy.