Review Alhaurín golf, Costa del Sol ($)
This club is about 30 minutes drive inland from most areas of the Costa del Sol. There is a surrounding property development, but it is quite small and never intrudes on the course. On half the holes you see no property at all. The club is situated at the head of a valley, just before the town of Alhaurín el Grande as you drive North. The nearest adjacent golf course (just past Alhaurín El Grande) is Lauro. The Alhaurín clubhouse is medium-sized and was obviously built assuming much more adjacent property would be sold - unlike some other courses where they built the course then had to compromise on the clubhouse as the property market collapsed. So the Alhaurín clubhouse is comfortable. Membership does not seem large, but clearly the whole setup still works.
Alhaurín is not expensive. Probably in 'bottom five' in terms of prices on the Costa del Sol. I think it really good value-for-money, if you like the course. I do, you may not – the course itself is quite unusual and definitely not for everyone.
The whole course is up-and-down, winding around the narrow steep valleys that surround the clubhouse (which sits near the top of the course). Fairways are mostly medium width, some quite narrow. Most have significant slope (left-to-right or right-to-left) following the natural landscape – in addition to the up/down layouts. This is quite a wild area. Clearly they have an issue with wild boar digging up the fairways, but this is usually not significant enough to affect your game. There is no managed rough to speak of, but most holes can either have ravines lining the fairways, or steep scrubby hillsides you have to trek up to look for an errant golf ball. Real twist-an-ankle territory if you lose your footing. On the gentler holes there are nice mature trees alongside the fairways and strategically placed on the fairways. There are a few water features, but easily avoidable. Bunkers also are not severe. Quite a few holes play up a small valley so the hole is U-shaped. I always find that attractive. Not just because any shot slightly off-line tends to roll back down to the middle of the fairway, also because holes like that are simply nice to look at and play up. The fairway grass overall is not high-quality, with several types of mixed grasses. But tightly mowed and easy enough to play off.
All in all, the holes are very varied. This is real 'target golf' in terms of plotting your way around the heavily-contoured course. The Alhaurín course is not long, so you have the problem of accuracy alone, not both length+accuracy. There are high-quality plastic hole maps on every tee. You will need them !. On all par 4 and par 5 holes, not just the ones with a blind tee-shot.
The greens are very good for a course at this price level. Quite flat, mildly sloped, not domed. Big, in particular back-to-front (a forgiving feature). Consistent medium speed and nicely mowed. The grass has mix of colours (unlike really top courses where the grass is uniform), but this does not affect your putting. The nicest part of the greens is the really pleasant way they have built them into the landscape. The greens are simply very pretty, even on the shorter holes. So tricky to get to the greens, but once you are on the greens things are much nicer.
I think Alhaurín is an attractive and fun course. Any difficulty comes from the natural topography, not because they had to design difficulty in to a dull landscape. A natural course in all respects. As a mid-handicap player, I knew what I wanted to do on every shot, rather than thinking all the time 'need lots of distance, hit the ball hard'. There are only 2 or 3 other courses on the Costa del Sol that have this mountain/hilly feel to them. A player with handicap 25+ will probably not enjoy this course. They should go find a flatter course of which there are plenty on the Costa – like Lauro only ten minutes drive away from Alhaurín. But for handicap level 10-20, this is a really nice course to go around. For low-handicap players, it depends upon your preference. You either like a hilly course or you do not. If you do, then Alhaurín is certainly not difficult, and a good course to work on the direction and distance of your shots from mid-iron down. Probably not a course for a windy day - the wind swirling around the hills and valleys will be tough. But overall I think this course is still really good value-for-money. If you want quite cheap golf, a reasonable challenge and a nice natural environment, then Alhaurín is difficult to beat. Final piece of advice: Until you know this course, play it with the old golf balls from the bottom of your bag. You do not want to sour your day by losing nice new golf balls - as you are highly likely to do on this course however well you play.
Review last updated: December 2013. Number of times played: 1.
Find Alhaurín golf ? Web site: alhauringolf.com | GPS: 36.591666,-4.705118 in new window on Google Maps or Bing Maps
---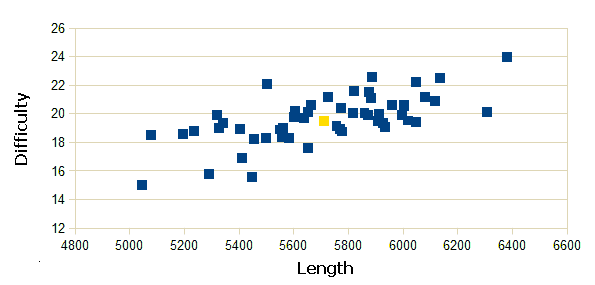 Each dot represents a golf course on the Costa del Sol - when played off the Mens Yellow tees. Every course has two measures - length in meters (the X-axis) and difficulty (the Y-axis).
Alhaurín is represented by the yellow dot. That shows this course is almost exactly average length and difficulty compared to all other courses on the Costa del Sol. An 18-handicap player can expect to go round this course between 19 and 20 over par.
The graph shows you 'at-a-glance' the approximate length and difficulty of each course relative to other courses on the Costa del Sol. The graphs are explained in more detail here.
---



This entire CostaDelSolGolf site © 2013-2020. See our terms and privacy/cookies policy.