Review Sotogrande golf, Costa del Sol ($$$$)
The Sotogrande environment is top-end villas. Around the actual Sotogrande club/course, these are all low-rise, medium-sized, sit in large plots of land and are nicely architected. Very stylish and classy in my view. Not vast amounts of money spent on putting up ugly 10-bedroom monstrosities. This is important because it sets the tone for the whole club and course. Basically, the property around Sotogrande is 'luxury done right' and predates the worst years of the Spanish property boom/bust when property development went wild – and off the chart in bad taste.
The Sotogande club is very close to the sea. The Beach Club part of the complex sits right on the beach and the golf clubhouse is very close by inland. So the whole Sotogrande golf club/course is very close to the sea, but does not overlook it because the whole estate is very flat. The golf clubhouse is mid-sized and quite simple, but refined. A lovely relaxed country club feel to the whole place. I had a good club sandwich there for a price you can expect at this level of club. Perfectly done – service was informal and attentive.
This club is starting a major reconstruction of their course during 2015 and 2016. The full 18 holes will not be available to play during that time. 10 holes should still be available to play and the club will probably allow you to play 18 or 20 holes in total – just repeating some of the 10 holes twice. Once the course reconstruction is complete, this review will be totally rewritten.
The entire Sotogrande golf course is very flat and has one outstanding feature – the width of the fairways. These are mostly between 40 and 70 meters wide. That is huge when you think about it. Six holes are slight dog legs. There is mild slope (across the fairway) on about 5 holes. There are very simple hole maps on tiles on tee boxes and a simple course plan in the small rules pamphlet they give visiting players.
The next major feature of this course is the quality of the grass. This is excellent everywhere. Very wide fairways play like a bowling-green. Just off the fairway they mow the same grass longer but it is still soft and very playable. Same for the tee boxes, which are really good quality. Everything in very good condition. The sort of place where you go looking for small patches of grass from your divot to put back and tamp down because it just feels like the right thing to do on a course of this quality. Further off the fairways there are very mature trees (mostly oaks, some pines). Below those large trees there is mostly bare earth. So very little rough to speak of.
There are not many bunkers along fairways, more guarding greens. All have very fine soft sand, are bowl-shaped but not really deep and are easy to play out of. There are water hazards (large artificial lakes with no surrounding reeds) in play on 5 holes, but only seriously on 2 par 3s. The water and sand hazards up to the greens on longer holes are pretty much irrelevant, given the sheer width of the fairways.
The greens are large, slightly domed but mostly flat and quite fast. High-quality and receptive. Very easy to get down in 2 putts, and good golfers will expect 1 putt up to 5 meters from the hole. This course plays very easy up to the greens and on the greens, so they add back in some difficulty around the greens. Firstly, all greens are elevated by 1 to 2 meters. Secondly, they 'neck' the fairway just in front of the green. That is, if you are playing up to a green 10 meters wide, the real fairway channel close up to the green is only 5 meters wide and often at a slight angle. Off that channel there are the edges of bunkers and first-cut rough. This design emphasises that your approach shot from any distance should land on the green itself. If your approach shot falls slightly short of the green there is a 50% chance you then have a difficult chip/bunker shot to follow.
This course is slightly above average length on the Costa del Sol. The par 4s average 330 meters, the par 5s average 370 meters. Play along the fairways is so easy and low risk that the course really favours big hitters. For them, it will be easy ending up with an approach shot under 100 meters to hit the green in regulation. For a so-called championship course, I think this course is very simple for low handicap players – particularly compared to the handful of other championship courses on the Costa del Sol. Conversely, players driving less than 200 meters off the tee are going to struggle to make par on the longer holes. As a mid-handicap player, I got few pars on my first time out, but seldom got more than a double-bogey on any hole even though I did not know the individual hole layouts or green shapes at all. This is a good course for high-handicap players (probably the majority of the elderly members) because it plays so easy and players at that level can return some kind of score on most holes without losing many golf balls.
I do like the whole ambience at Sotogrande. The club and course is luxurious in a simple stylish, laid-back way. But I think the cost quite high for visiting players. Certainly I see no reason why the cost here should be significantly above other championship courses. But then clubs with strong membership like Sotogrande can set whatever prices they like for visiting players. Not a course I will go back to often. But still recommended for any player looking for a very attractive, high quality and moderately easy 'proper' golf course. I think the official difficulty rating of this course (see below) is overstated.
Review last updated: November 2014. Number of times played: 1.
Find Sotogrande golf ? Web site: golfsotogrande.com | GPS: 36.275248,-5.284751 in new window on Google Maps or Bing Maps
---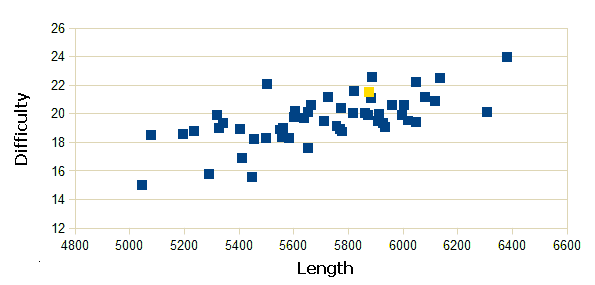 Each dot represents a golf course on the Costa del Sol - when played off the Mens Yellow tees. Every course has two measures - length in meters (the X-axis) and difficulty (the Y-axis).
Sotogrande is the yellow dot. This shows the course is 'top 10' in terms of difficulty compared to all other courses on the Costa del Sol, and slightly longer than average for courses down here. An 18-handicap player can expect to go around this course about 21 or 22 over par.
The graph shows you 'at-a-glance' the approximate length and difficulty of each course relative to other courses on the Costa del Sol. The graphs are explained in more detail here.
---



This entire CostaDelSolGolf site © 2013-2020. See our terms and privacy/cookies policy.