Review Mijas Los Lagos golf, Costa del Sol ($$)
This golf course is one of two (Los Lagos and Los Olivos) at the Mijas golf club. The clubhouse is a bit of a rabbit warren, the check-in desk can be quite busy and the first tee for the Los Lagos course is a 5-minute walk from the clubhouse. You also have to check in at the starters hut before proceeding to the 1st tee. Allow plenty of time to start the game, otherwise you can easily miss your tee time. The clubhouse is medium-sized and informal. Pleasant shaded terrace to sit and have food/drinks. I thought the food good and not expensive. Membership is about half British, the rest mostly Northern European.
The Los Lagos golf course was refurbished in 2012, so is now at a consistent and quite high standard. The course is fairly flat, and every hole is really done pretty much to the same standard. Once you have played a few holes, you know fairly well what the remaining holes are going to be like. Some holes sweep gently left or right, but no sharp dog-legs at all. The scorecard has a small but accurate course map on the back and there are good plastic hole maps on every tee box. The open nature of the course means there are virtually no blind shots at all – every hole is 'play it as you see it'.
The holes on this course do not have a lot of variety compared to others on the Costa del Sol. The entire Los Lagos course has consistent design. The main theme is lakes (the 'Lagos'). Several holes have lakes behind greens, for example – and 11 of the holes have some kind of water hazard in play.
The entire Mijas Los Lagos course is grassed – there is no natural rough vegetation to speak of. Fairways grass is high quality, and grass off fairways is mowed quite short. So if you miss a fairway and do not end up in the water you drop 'half a shot'. That is, you can possibly make up for the fairway miss if your subsequent recovery shots on the hole are good enough. The greens are large, medium-fast, quite sandy, good quality (no obvious blemishes) and consistent. Any slopes are quite gentle. A good putting challenge for all handicap levels. Easy enough for the low handicap players to expect 2 putts maximum, and high-handicap players to have a decent chance of 2 putts as well. If in doubt (e.g. about the water behind the green), lay up on the approach shot just before the green and face a predictable pitch up to the pin. The grass around the greens is also mowed short, so putting onto the green is always an option provided there is no hazard on the line of the putt. All holes except 2 or 3 have bunkers in play (about half fairway bunkers, half green side bunkers). These have fine sand, are not deep and have low bunker lips. So putting out of a green side bunker is often an option if you want a 'safety first' exit from the bunker onto the green.
This is a long course (one of the longest courses on the Costa del Sol) but not particularly difficult. Mostly you are bashing shots up fairways that are fairly easy. So if you never hit the ball long, you might find this course a bit of a stretch. But if you can hit at least some of your shots around 175 meters, the length should be no problem.
I do like Los Lagos. It is a good 'hitting' course for me as a mid-handicap player. I recommend it to all handicap levels. Low-handicap golfers should find it easy to play to their handicap. High-handicap players can aim to play safe (e.g. play deliberately to avoid water hazards and bunkers) and still have a respectable score. This is a very good course to play first time - not difficult to navigate your way around the course. So particularly recommended to touring golf parties who plan to play a few golf courses once or twice only. A good enough course with all holes fairly high average standard, although perhaps a bit monotonous to play very regularly.
Review last updated: June 2015. Number of times played: 5.
Find Mijas golf ? Web site: mijasgolf.org | GPS: 36.549665,-4.668948 in new window on Google Maps or Bing Maps
---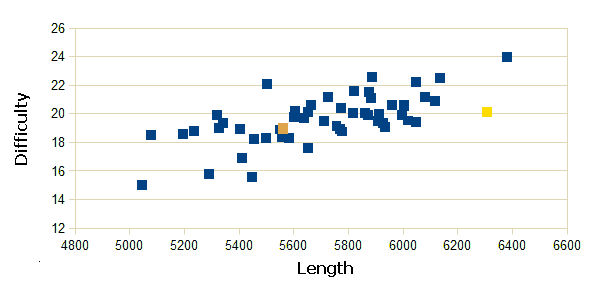 Each dot represents a golf course on the Costa del Sol - when played off the Mens Yellow tees. Every course has two measures - length in meters (the X-axis) and difficulty (the Y-axis).
Los Lagos is represented by the yellow dot on the right hand side of the graph. Los Olivos is represented by the brown dot in the middle of the graph. This shows that Los Lagos is much longer than the average golf course on the Costa del Sol, while Los Olivos is slightly under average length. Neither course is particularly difficult taking it's length into account. An 18-handicap player can expect to go around Los Olivos in 19 over par and around Los Lagos in 20 over par.
The graph shows you 'at-a-glance' the approximate length and difficulty of each course relative to other courses on the Costa del Sol. The graphs are explained in more detail here.
---



This entire CostaDelSolGolf site © 2013-2020. See our terms and privacy/cookies policy.