Review Atalaya New golf, Costa del Sol ($)
The Atalaya club
The Atalaya club has two courses – Old and New. The 3-level clubhouse is mid-sized with pleasant terrace on the top level overlooking some of the holes. Parking is reasonably generous, although might be limited if the club is very busy. The service in the caddy-master office I thought very helpful, cheerful and friendly. The club has several hundred members, mostly Scandinavian and British. This is quite an old club, so everything about it feels well settled. Price-wise it is towards the low end of mid-priced. The place is not luxurious by any means, but having two courses included in the membership means it is attractive to golfers looking for a bit of variety at an economical price.
The Atalaya New course
The Atalaya Old course is described by the staff at the club as the better of the two courses (Old and New), and is marginally more expensive.
Atalaya New is the shortest and technically the easiest 18-hole golf course on the Costa del Sol. It is a par 70 compared to the average par 72. It is 10% shorter than the average course on the Costa. It has only two tees – yellow and red. No white competition tees for example. Arguably this could be described as really being a par 68 or 69 course.
Start with by far the best feature – the greens. These are up to the same high standard as the Atalaya Old course. Fairly large, medium paced, not much sloped, not raised and well mowed. Very easy to get the ball close to the pin on the first putt. Only one green shaded by trees is a bit muddy and has patches where the grass struggles to grow. There are good bunkers on the New course – quite a lot of them. High-quality sand, not set down, so not difficult to get out of at all.
On any course that is squeezed for distance, there are going to be compromises. In this case it is on the 8 par 4 holes. These average only 260 meters, which means a low-handicap golfer can drive some of these greens and otherwise has only a very short shot to reach the green in regulation 2 strokes. This sort of distance effectively takes all fairway hazards completely out of play, leaving only the green-side bunkers to worry about. So this course is way too easy for players with handicap under 10. Even I as a 15-handicap player thought pars came very easily. On approach shots I was using my pitching wedge a lot and my 5-iron and 6-iron hardly at all. I can not really see a player at handicap 10-20 level preferring this course to the longer and bigger medium-difficulty courses around on the Costa del Sol.
So is this really an 'easy' course ?. Surprisingly the answer is No. The total officially rated difficulty is really the sum of length + 'technical' difficulty. This course may be short, but technically it is far from easy – before you get to the greens at least. The first two and last two holes are quite flat, but the remaining holes have considerable elevation (along the fairway) and slope (across the fairway). Fairways are not generously wide, not least because the whole course is quite cramped. The fairway grass is certainly playable, but mixed and not high quality on most fairways. The few water hazards are definitely in play, not just decorative. Adjoining fairways there are some reasonably tough areas – scree slopes, abrupt slopes down to adjacent fairways, heavy bushes etc. Plastic hole maps are available on each tee, but are badly faded.
These difficulties only really kick in if you are quite high-handicap (say more than 20). Then all the hazards really do come into play because you may lack the distance and direction on your shots up to the green. For genuine high-handicap players (say more than 30), this is absolutely a tough little course. It depends what you want as a high-handicap player. If you want broad open flat fairways that you can bash your shots up (including a few duffed shots) then Atalaya New is not the course for you. Go play flat courses like Atalaya Old, Santana or Mijas Los Olivos instead - off the red tees if you really want to cut the length. If you are OK with accurate golf but do not hit the ball far at all, then Atalaya New is fine for you.
So I find Atalaya New a hard course to describe and figure out who will enjoy it. I guess every time you play a shortened course, you have to puzzle about the compromises. I prefer walking off a course feeling it was a 'little bit too long' than a 'little bit too short'. There is also always a question of taste. Someone playing an unusual course like this one could really enjoy it as almost like a game of chess where position is everything. I can easily understand some people having a positive opinion of Atalaya New. Just not a course for me personally.
Review last updated: December 2013. Number of times played: 1.
Find Atalaya golf ? Web site: atalaya-golf.com | GPS: 36.481121,-5.017576 in new window on Google Maps or Bing Maps
---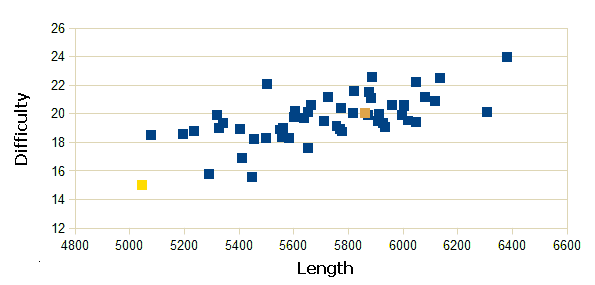 Each dot represents a golf course on the Costa del Sol - when played off the Mens Yellow tees. Every course has two measures - length in meters (the X-axis) and difficulty (the Y-axis).
Atalaya Old is represented by the brown dot and Atalaya New is represented by the yellow dot. Atalaya New is clearly the easiest and shortest course on the Costa del Sol. An 18-handicap player should go around the New course at 15 over par. However see the review above for more details on the easiness of this course.
The graph shows you 'at-a-glance' the approximate length and difficulty of each course relative to other courses on the Costa del Sol. The graphs are explained in more detail here.
---



This entire CostaDelSolGolf site © 2013-2020. See our terms and privacy/cookies policy.