Review Guadalmina South golf, Costa del Sol ($$$)
The Guadalmina club
The Guadalmina club is very well established. This is a busy  place, humming along nicely in a relaxed sort of way. With two full courses (North and South) and a small 9-hole course, it offers quite a bit of variety to members. Membership is large (a few thousand), approximately one-third Spanish, one-third Scandinavian, one-third British/other. Membership prices are average by standards here. The property surrounding the course is stable, mid-market and generally successful. There is a lot of this surrounding property in what is after all a central and built-up area of the Costa del Sol, but not much intrudes close to the golf courses. The whole development predates the extremes of the Spanish property boom/bust so everything about the operation feels settled and comfortable. The clubhouse is medium-large, but parking in the outside parking area is a bit cramped and limited. The service on the terrace is fine (enough staff to deal with the numbers of people using the facility). The small caddy-master office is friendly and helpful. Members tell me there are lots of organised competitions within the club and involving other clubs on the Costa. Clearly a club of that size is going to have some seriously good golfers, but overall I do not get the feeling that this is a club that is unwelcoming to mid-handicap and high-handicap players. On the contrary, the whole setup is ideal for 15-25 handicap players. The courses are medium-difficult, but still OK for all levels of golfer. In short, I can understand why Guadalmina attracts members who want quite a lot of variety in an operation big enough to be managed quite professionally to a reasonable level.
The Guadalmina South course
This course is flat. There are reasonable quality wooden hole maps on every tee. Few holes have a change in elevation of more than 3-4 meters. There is also no true rough – all grass off the fairways is well mowed. Mature trees line fairways, but are sparsely planted, do not often block shots and are not really in play unless you miss the fairway badly. There are a few quite large water hazards, but those are also quite easy to avoid. Tee boxes and fairways are in good condition. Fairways are mostly medium-width. A lot of holes are straight, dog-legs are mostly gentle. There are no blind shots to speak of. There are a lot of bunkers on the course, some really big. The sand in them I think fairly dense (not soft and fluffy), so at times it is almost easier to hit a 4-iron out of a fairway bunker than a sand wedge out of a green-side bunker. But these are still good quality bunkers, so no obvious complaints there. The course is not long – about average among all courses on the Costa del Sol. There are only very short distances between holes - the course is actually moderately cramped. This is a nice course for ambitious driving and mid-irons. Getting to within 80 meters of the hole in regulation is not tough at all.
So given the above, why is Guadalmina South such a tough course ? Start with the greens. These are large and in very good condition. I thought them relatively slow for a top-ranked course, but they are still consistent speed. But several other things make the greens really difficult. Firstly, they are often domed and quite severely sloped (not tiered, more undulating). A putt slightly not good enough can make you look very stupid indeed as it dribbles away from the hole for several meters, or you can find your putts criss-crossing a green all too easily. Two putts to get down is doing well here. Secondly, all greens are elevated to some degree. So approach shots can sit just short of the green or roll a bit backwards. This course is basically really difficult starting 5 meters off the green. Chipping is extraordinarily tough. As a mid-handicap player, I thought I was doing really well if a chip ended up within 2 meters of the hole.
This difficulty extends to pitching range (up to 30 meters out). I thought the fairway grass very dense and required a really strong (not necessarily fast) shot to get the wedge under the ball for proper loft. It is easy to skim or fluff pitches here.
You may need to get very creative on and around the greens. For example, consider playing more links-type golf in your close approach shots. By that I mean take a low iron to nudge the ball 10 meters rather than using your typical pitching wedge. Given the shape of the greens, your optimal landing zone for a lofted approach shot is tiny. If you are a low-handicap player with excellent range of short wedge shots and able to read tricky greens very well, this is less of an issue. For everyone else (including me), be prepared to play whatever shot works ! For example, deliberately laying your approach shot up just in front of the green can be a really smart choice (at least you can plan this shot rather than go for the pin but end up on a distant edge of the green). Then a bump-and-run pitch could also be another equally effective shot.
In conclusion, getting close to the green is no major problem if your drives and long fairway shots are straight and reasonable length. Thereafter things get much tougher and you can very easily take 4 shots to get down from under 50 meters out. Naturally this difficulty will reduce once you have played the course 5 or more times. For example, you will know better the area you want to land on each hole so that the subsequent shot at the pin has the best chance of success. Not just by taking bunkers out of play, more getting a better line for the next pitch or chip that represents 'least risk'. Guadalmina South will break you if you are careless around the greens – a 'safety first' policy there will definitely work best over the entire round.
If you are a high-handicap player (say over 25 handicap), this course is difficult to recommend. Seemingly innocuous, this course has many holes that can trash your round very easily. Because the course is quite short and flat, low-handicap players who can master the required short game on this course will really enjoy playing here. For mid-handicap players like me, this course is a real 'thinking challenge' and therefore a genuine pleasure. Difficult in a fairly distinctive way – by good, smart design. That makes it a top course on the Costa del Sol. A course I look forward to going back to any time.
However one cost here is in my view way out of line – the cost of a buggy. That is around €45, when there is no good reason for any golf course down here to charge more than €30. That is definite mispricing and they should absolutely change it. The course is OK to walk and trolley rental is a standard price of about €6. But if you plan to take a buggy, factor in the cost before you arrive to play. As a visiting golfer you might well conclude that the buggy price pushes the overall cost from 'not cheap, but fair' into 'definitely overpriced' territory.
Review last updated: December 2013. Number of times played: 2.
Find Guadalmina golf ? Web site: guadalminagolf.com | GPS: 36.479926,-5.005793 in new window on Google Maps or Bing Maps
---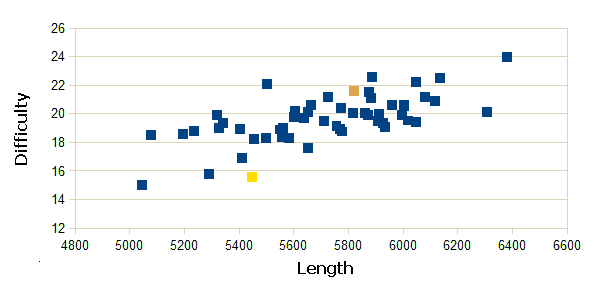 Each dot represents a golf course on the Costa del Sol - when played off the Mens Yellow tees. Every course has two measures - length in meters (the X-axis) and difficulty (the Y-axis).
The Guadalmina North course is represented by the yellow dot and the South course by the brown dot. The South course is about average length compared to other courses on the Costa del Sol, but is 'top 5' in terms of difficulty. An 18-handicap player can expect to go around Guadalmina South between 21 and 22 over par.
The graph shows you 'at-a-glance' the approximate length and difficulty of each course relative to other courses on the Costa del Sol. The graphs are explained in more detail here.
---



This entire CostaDelSolGolf site © 2013-2020. See our terms and privacy/cookies policy.