Review Estepona golf, Costa del Sol ($)
The town of Estepona itself is not very upmarket – I expect some local people live there for the reasonable prices but commute to places like Marbella to work. Surrounding the Estepona golf course there are a few residential property blocks. About half seem occupied. The other half are in various stages of incomplete delapidation. So the surrounding property is a 'bit of a disaster' rather than the 'total disaster' surrounding some other courses.
I first went to play Estepona with low expectations. I knew it was inexpensive and no regular golfer in my cost/quality bracket down here I know plays it. I came away quite pleasantly surprised.
The course is not heavily architected – but then virtually all cheaper/older courses are also 'plonked down on the landscape'. Every tee box has a simple hole map made from tiles mounted on concrete. It is obvious from each tee box the way the whole fairway on the hole slopes left or right along the valley. You just play along the 'high edge' of the fairway so the ball can roll back down to the middle of the fairway. Most fairways are medium width and the rough you hit for a bad shot is not too bad. The whole course is reasonably up-and-down (along the fairway towards the green), but not to the extent of some higher quality spectacular courses on the Costa. A lot of holes are fairly straight (very few severe dog legs). The quite large greens are surprisingly good for a course at this price level. Overall the greens are medium-paced and run true. If you get the line of a putt wrong, it is your fault rather than a green that is badly laid or mowed. There are not many bunkers, but they are well-positioned and the quality of sand in them is OK. The tee boxes are not great quality, but then I personally think this is the least important aspect of a course - I always rather an inexpensive course put what $$$ they have into the greens.
The par 3 holes on Estepona are fairly meaty, which I always like. Off the yellow tees they are 144/156/171/165 meters long. I do not really like short par 3's on any course. It often feels like they crammed them in to make the hole count up to 18, and if I find them easy with a short iron then a good golfer is hardly hitting more than a wedge and really treating the short par 3 hole as a boring pitch-and-putt. Estepona does not have that issue with the par 3's. For quite a short course, that means the par 4's are not long. So this course is definitely not a challenge for big hitters.
The clubhouse is medium-sized and fairly simple. All staff friendly. For example the starter was helpful to join me up with other players at my request on the few times I have played there. The food is fairly priced (e.g. around 10 Euros for the menu del dia) and mixed quality. A fish main course I had once was really nicely done – well pan-fried with crunchy vegetables. A burger I had there another time was luke warm and indifferent quality. The club has a few hundred members of whom about half are Spanish.
In 2014 this club put a lot of effort into upgrading two aspects of their course that previously had been very poor. The buggy paths and grass on the fairways. The buggy paths are now OK, although still a bit narrow and have no rims. You need to drive the buggy carefully - this is quite a hilly course and the buggy paths are a bit of a rollercoaster. The grass on the fairways is now very nice. Fine, soft, consistent and easy to take a divot from the clay that underlies the whole course. The course has its own natural water supply (reservoirs and wells) so hopefully they have enough water to keep up the quality of fairway grass during the dryer Summer months.
In line with this investment, Estepona raised its prices from inexpensive to lower end of the mid-priced courses. Fair enough – they upgraded the course where it really needed investment and now charge more for it. Personally though I think they have overshot on this price increase. They need to reduce the price for walk-up players by about 5 Euros. Ditto the cost of buggy rental. This club simply needs more players first. Keeping prices that are very good value for money achieves that. The club does have an array of offers that reduce the average cost if you play more. The baseline price for this Web site though is always the walk-up price for 2 players sharing a buggy. That price is now marginally too high at Estepona.
This is a good golf course for intermediate and novice players, particularly those wanting to improve their game by playing the same course a few times at low cost. Not really one for guest players with handicap under 10. Not a difficult course by any means – I played just under my handicap first time out and thought the greens nice (easy to hit, held the ball well, played true whatever direction I was going back at the pin after my approach shot).
This is not a premier course and maybe never will be given it's location on the Costa del Sol (sandwiched between the high-end courses near Gibraltar and the clump of good courses just East of Marbella). But it is plenty good enough. For example if I had a couple of young players looking to move up from pitch-and-putt to a 'proper' golf course that they could play several times to reinforce the basics of the game, then Estepona would be the sort of course I would escort them around. This is not a course that I personally will actively seek to go back to often, but it is still interesting and varied and I am pleased that they are raising the standard to be comparable to courses like Doña Julia and Alcadeisa close by. I respect that for some golfers who like playing just one course often that Estepona offers some attractive deals.
Review last updated: January 2015. Number of times played: 2.
Find Estepona golf ? Web site: esteponagolf.com | GPS: 36.409558,-5.211543 in new window on Google Maps or Bing Maps
---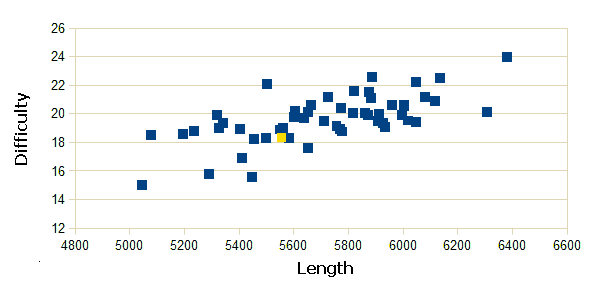 Each dot represents a golf course on the Costa del Sol - when played off the Mens Yellow tees. Every course has two measures - length in meters (the X-axis) and difficulty (the Y-axis).
Estepona is represented by the yellow dot. This shows that Estepona is less than average difficulty and length when compared to other courses on the Costa del Sol. An 18-handicap player can expect to play this course 18 or 19 over par.
The graph shows you 'at-a-glance' the approximate length and difficulty of each course relative to other courses on the Costa del Sol. The graphs are explained in more detail here.
---



This entire CostaDelSolGolf site © 2013-2020. See our terms and privacy/cookies policy.